Glycosynth
Glycosynth是英国一家专门生产高质量酶底物的公司,用于检测糖苷酶(glycosidase),磷酸(phosphatase),酯酶(esterase)和氨基肽酶(aminopeptidase)等多种酶的活性。产品执行ISO9001:2008标准,广泛用于临床、食品与环境微生物学、植物分子生物学和普通诊断。

Glycosynth荧光酶底物和苯基底物详细信息如下:
一、Glycosynth荧光酶底物
1. 7-氨基-4-甲基香豆素类底物(7-amido-4-Methylcoumarin Substrates)
货号

CAS

号

英文名称

33114

None

D-Alanine 7-amido-4-methylcoumarin free base

33414

201847-52-1

D-Alanine 7-amido-4-methylcoumarin trifluoroacetate salt

33415

96594-10-4

L-Alanine 7-amido-4-methylcoumarin trifluoroacetate salt

33131

72669-53-5

γ-L-Glutamic acid 7-amido-4-methylcoumarin

33234

113728-13-5

Glycine 7-amido-4-methylcoumarin hydrobromide salt

33340

62480-44-8

L-Leucine 7-amido-4-methylcoumarin hydrochloride

33542

201853-23-8

L-Lysine 7-amido-4-methylcoumarin acetate salt

33454

108321-84-2

L-Phenylalanine 7-amido-4-methylcoumarin trifluoroacetate salt

33256

115388-93-7

L-Proline 7-amido-4-methylcoumarin hydrobromide salt

33158

66642-36-2

L-Pyroglutamic acid 7-amido-4-methylcoumarin
2. 4-甲基伞形酮类底物(4-Methylumbelliferyl-Substrates)
货号

CAS

号

英文名称

29064

947175-17-9

6-Chloro-4-methylumbelliferyl β-D-glucuronide

87045

None

6-Chloro-4-trifluoromethylumbelliferyl β-D-galactopyranoside

62073

99422-73-8

6-Hexadecanoylamino-4-methylumbelliferone

62045

94452-17-2

6-Hexadecanoylamino-4-methylumbelliferyl β-D-galactopyranoside

44012

2747-5-9

4-Methylumbelliferyl acetate

44002

36476-29-6

4-Methylumbelliferyl N-acetyl-β-D-galactosaminide

44007

37067-30-4

4-Methylumbelliferyl N-acetyl-β-D-glucosaminide

44009

142439-99-4

4-Methylumbelliferyl N-acetyl-β-D-glucosaminide-6-sulfate sodium salt

44016

77471-44-4

4-Methylumbelliferyl α-L-arabinofuranoside

44018

69414-26-2

4-Methylumbelliferyl α-L-arabinopyranoside

44021

20671-66-3

4-Methylumbelliferyl caprylate

44023

72626-61-0

4-Methylumbelliferyl β-D-cellobiopyranoside

44037

54322-38-2

4-Methylumbelliferyl α-L-fucopyranoside

44039

38597-12-5

4-Methylumbelliferyl α-D-galactopyranoside

44045

6160-78-7

4-Methylumbelliferyl β-D-galactopyranoside

44050

126938-14-5

4-Methylumbelliferyl β-D-galactopyranoside-6-sulfate sodium salt

44051

17833-43-1

4-Methylumbelliferyl α-D-glucopyranoside

44059

18997-57-4

4-Methylumbelliferyl β-D-glucopyranoside

44064

6160-80-1

MUG/4-Methylumbelliferyl β-D-glucuronide

44076

66966-09-4

4-Methylumbelliferyl α-L-iduronide (free acid)

44081

28541-83-5

4-Methylumbelliferyl α-D-mannopyranoside

44084

67909-30-2

4-Methylumbelliferyl β-D-mannopyranoside

44089

18319-93-2

4-Methylumbelliferyl nonanoate

44093

3368-04-5

MUP/4-Methylumbelliferyl phosphate (free acid)

44099

51379-07-8

bis-MUP/bis-(4-Methylumbelliferyl) phosphate

44180

195385-93-4

4-Methylumbelliferyl β-D-ribofuranoside

44107

15220-11-8

4-Methylumbelliferyl sulfate potassium salt

44111

6734-33-4

4-Methylumbelliferyl β-D-xylopyranoside
二、Glycosynth苯基底物(Phenyl and thiocarbohydrate Substrates)
货号

CAS

号

英文名称

72045

367-93-1

IPTG

25039

2871-15-0

Phenyl α-D-galactopyranoside

25045

2818-58-8

Phenyl β-D-galactopyranoside

79059

2936-70-1

Phenyl β-D-thioglucopyranoside

82001

19879-84-6

1-Thio β-D-glucose tetraacetate
Welcome to Glycosynth ...
Glycosynth is a specialist manufacturer of enzyme substrates approved to ISO 9001:2015 standards. Our products find wide applications in clinical, food and environmental microbiology, plant molecular biology, and general diagnostics.
We offer a range of 4-Methylumbelliferyl [4MU], Nitrophenyl, 7-Amido-4-methylcoumarin [AMC], Indolyl, Naphthyl and other substrates as well as a new range of patented products. Please select from the groups below, or use our search facility for specific items or interests. Full details, including packs, prices and application references, can then be found by selecting the product of interest.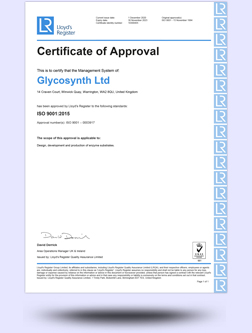 Quality and ISO 9001
Glycosynth prides itself on the quality of all aspects of its service.
We have many years experience in this area of chemical synthesis, and our products are amoung the very best available in the market. All shipments are supplied with product Certificates of Analysis.
We offer a professional yet still very personal service, and always try to satisfy our customer requirements, be this in terms of delivery or administration. Our customers frequently compliment us.
In 1996 Glycosynth gained ISO approval for its Quality Management System and currently holds ISO 9001:2015.
We believe that this award reflects our commitment to provide the highest quality in all aspects of our service.
CLICK ON THE IMAGE FOR A PRINTABLE PDF VERSION
Glycosynth Featured Products
MUG
X-riboside
ONPG
4MU-iduronide
X-cellobioside
Magenta-xyloside
X-glucuronide
PNP-G1
Blue-Gal
X-Gal
Magenta-cellobioside
Rose™ Glucuronide